What is high tea in Australia? How does it compare to low tea? And what time is it served? What can you expect to find when you visit a tea house and order a high tea experience? In addition to that, what are the differences between a traditional high tea and a working class high tea? A quick internet search reveals a great deal of polarising information so it can get rather confusing. In any case, we will break it down for you and reveal everything that you need to know. 
What is high tea?
What is high tea? Is it when you drink tea at the top of a mountain? Or perhaps sharing a pot of tea with Snoop Dogg? As exciting as both of those options would be, high tea is something different entirely.
High tea originated in England. It is known as afternoon tea and was first introduced by one of Queen Victoria's girlfriends, Anna, the Duchess of Bedford sometime during the 1840's.
The Duchess would tend to get hungry around the 4pm mark and would then request that some tea, bread, butter, and cakes be brought to her chambers. Her fancy snacking habit would quickly turn into a custom…years later, it is a fashionable event that people enjoy the world over.
What is served at a high tea?
It all depends on what your version of high tea is (as we will cover shortly). In any case, a traditional high tea according to the Duchess of Bedford consisted of the following:
Tea, scones, cream, and jam. These make up a traditional afternoon 'cream tea'.
You can even add fresh strawberries and cream. Then you have a 'strawberry tea'.
If you want to go nuts and add even more delicious sweets, then you've upgraded to a 'light tea'.
And finally, with savoury foods (i.e., finger sandwiches), then your light tea becomes a 'full tea'.
What time is high tea?
With a quick internet search, you'll find conflicting articles as to when high tea takes place. As mentioned above, high tea tends to be around four o'clock in the afternoon. However, according to other sources, some believe that high tea should be served between 5pm and 7pm in the evening. 
You see, there are different varieties of high tea; one for the wealthy and another for the working class. For many, high tea was considered an evening meal or supper for the working class in England. Rather than a nice cup of tea complimented by some cream and scones, it instead consisted of hearty dishes such as meat, potatoes, baked beans, and other heavy dishes to provide nourishment after a long and hard day of work. 
For the working class, high tea was definitely not about living the life of luxury. It was more focused on getting as much nourishment as possible before going to sleep and starting the day all over again.
Some say that high tea was named after the traditional high dining table at which this supper was eaten.
All of that said, the high tea that we are focusing on in this article is served from 4pm. It is a light lunch served with delicious hot tea and an assortment of pastries and other treats.
What is high tea in Australia?
High tea in Australia is very much the same as it is back in England. Friends gather at their favourite tea houses at around 4pm to enjoy a delicious pot of tea with all manner of tasty treats and light snacks.
You will find that many different venues will celebrate differently and put their own personal touch on their high tea experience. However, for the most part, when referring to high tea in Australia, you are talking about a light afternoon tea shared with friends and family at around 4pm.
Why do Australians call it high tea?
The same reason why the English call it high tea. It is what it is, and we guess the name just sorta stuck in Australia. There are other variations: afternoon tea and light tea (among others), but high tea refers to the custom coined by the Duchess of Bedford and so tea houses in Australia honour that custom by keeping the name high tea as relevant today as it was back in the 1800's.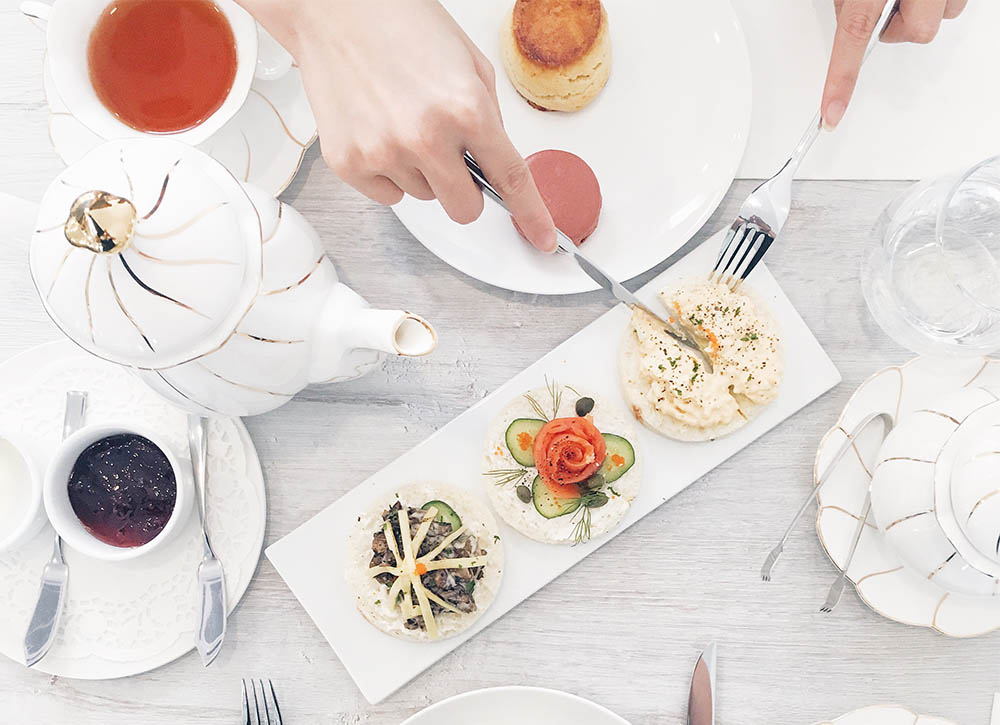 What is high tea vs low tea?
This is another polarising subject where you can find conflicting arguments everywhere. 
Let's break it down into the two versions: 
Posh high tea VS low tea: If you are talking about the high tea and low tea experiences that you can have in an Australian tea house, then a high tea takes place at around 4pm in the afternoon. Low tea on the other hand is more like a second breakfast or a light lunch occurring anywhere from 11am until 1pm.
Working class high tea VS low tea: On the other hand, the working class version of high tea refers to the hearty energy-packed meal that would be had at the end of a long and hard day's work (at around 8pm). And then the low tea would be a light snack that one would eat to tide them over until dinner time (or high tea).
So, when you come to a tea house in Australia and ask for high tea, you won't expect to find meat pies, pickled salmon, baked beans, and cold cuts. Instead, you'll have a nice pot of tea paired with some delicious pastries and cream.
Conclusion
High tea as it was back in the day for the working class is very different to what you will expect to find at a high tea event in an Australian tea house. Are you interested in a high tea experience in Camden? To get dressed up and enjoy a truly sophisticated and refined experience with your favourite people? If so, you'll find no shortage of opportunities in the many delightful tea houses around.