Whilst epoxy flooring has traditionally been used in only commercial settings, you'll discover that it is now becoming more and more popular in homes and garages throughout Australia. And with good reason to: epoxy flooring can significantly help to improve the overall aesthetic appearance of a floor, without having to break the bank while you are at it.
That said, how much does it cost on average per square meter for some epoxy flooring? Does it differentiate between commercial and residential applications? And how about garages and kitchens? Is one application more expensive than the other?
In this article, we're going to take a closer look at epoxy flooring in every application, so that you can get a rough idea as to how much such a project will set you back.
And of course, what benefit does epoxy flooring offer over traditional flooring materials? Read on to find out more…
What is the average epoxy floor cost per m2?
So, what is the average cost of epoxy flooring per m2? Generally speaking, in Australia, you are looking at between £30 and £35 per square meter for two coats of epoxy flooring over a concrete surface. Remember that these figures are not entirely accurate and may vary depending on your personal circumstances and which company you decide to roll with for your epoxy flooring application.
The price can be upwards of $80 and $100 per m2 if you need the concrete to be prepared beforehand. For example, diamond grinding is useful for preparing concrete surfaces for the perfect application of epoxy, particularly if you want a decorative finish.
But, what other factors can influence the overall cost of epoxy flooring per m2?
The cost of your epoxy flooring finish will depend on the following factors:
What kind of condition is the existing concrete in?
What type of look and finish are you after? Would you like a 3D epoxy finish? Something decorative?
How big is the space in question? Naturally, the larger the space (e.g., a commercial garage), is going to require more epoxy to finish the application.
Where you are (e.g., an epoxy flooring specialist in central Sydney is likely to charge more than someone in Perth, for example).
The company that you decide to use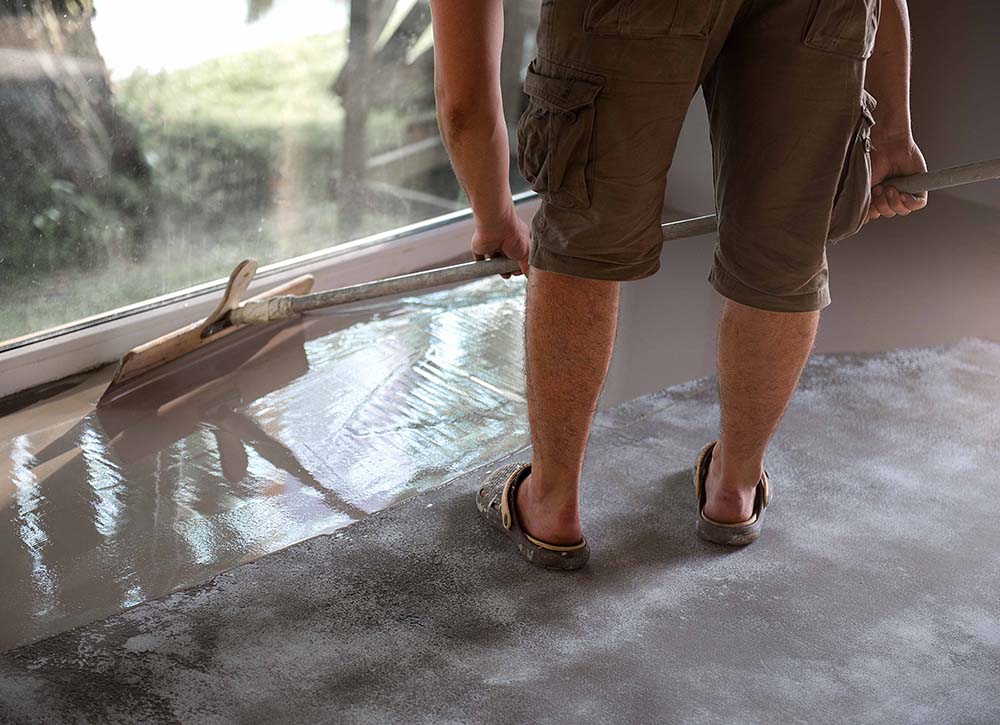 Self-levelling epoxy flooring cost
With that in mind, how much does self-levelling epoxy flooring cost? Is there much of a difference between self-levelling epoxy as opposed to a traditional application? 
Typically speaking, self-levelling epoxy flooring costs between $40 and $65. Again, this is likely to be higher if in the event that you need your concrete surface to be rendered and prepared for the application.
Residential epoxy flooring cost
Residential epoxy flooring also falls around the $30 and $35 per m2 mark. If your property is in relatively poor condition and a great deal of preparation work is involved, then those prices are likely to be closer to the $80/$100 AUD mark.
What is the average cost for an epoxy garage floor?
Most professionals in the industry will quote you for epoxy flooring based on the overall size of the space. That being said, there are likely to be other considerations that can affect the overall cost of epoxy garage flooring per m2 (as listed above). If extensive work is required in order to prepare the garage floor for the epoxy application, then the overall cost per square metre is likely to be higher.
Generally speaking, you will secure yourself a much better rate per square meter if you are having a larger surface area treated. This is due to the set-up and preparation time that is involved. So, whilst having a small garage treated with epoxy flooring will be cheaper than a much larger space; the actual cost per square meter for garage epoxy flooring will be lower. This is a typical economical advantage when it comes to renovations.
In most garages, you will need to pay for diamond grinding so as to smooth the surface sufficiently. Following that, a garage floor will need two coats of epoxy in order for it to take properly and achieve the desired aesthetic appeal. In this case, you are likely to be looking at $80 per square metre for a single-car garage. Whereas a double car garage will fall around the $50 per square metre (as detailed above). 
So, to recap: typically, for epoxy flooring in a garage, you'll be looking at an average of $50-$80 per square metre in Australia.
Commercial epoxy flooring cost
Commercial epoxy flooring costs aren't so dissimilar to that of residential. Again, it all depends on the overall size of the unit, the pre-existing condition that the flooring is in, and how much preparation work is involved.
Economically speaking, a large commercial space will be cheaper than a small residential garage per square meter.
Commercial kitchen epoxy flooring cost
Again, a commercial kitchen epoxy flooring cost will be lower per square metre than that of a residential one.
3d epoxy flooring cost per square metre
3D epoxy flooring costs are likely to be between $50 and $100 per square meter, depending on the quality and complexity of the design that you are after. Several layers need to be applied in order to achieve the desired 3D look, so the cost will invariably be higher than a traditional epoxy flooring application.
Is epoxy flooring really worth it? What are the benefits?
Epoxy flooring is an attractive solution as it offers the following benefits:
It is attractive
It's practical
There are a wide range of colours and designs 
Epoxy is easy to keep clean
It is hard-wearing (particularly when applied properly)
You can expect a seamless finish
It is cost-effective
Highly durable
And there are many unique finishes available 
Would you like to explore epoxy flooring further? Perhaps you have a commercial project that could do with a 3D epoxy flooring finish? Or maybe your garage is looking a little worse for wear and could do with a fresh coat of epoxy flooring to bring it back to life? Whatever the case, finding the right company to work with is essential. Find a reputable and established company for a high-quality finish and the most competitive prices.